Subscribe below!
Our Most Recent Newsletter
3909 S. 320th St. Auburn, WA 98001
Phone (253) 941-7705
Fax (206) 212-6984
Hours: Monday - Saturday: 9 am - 5 pm and Sunday: Closed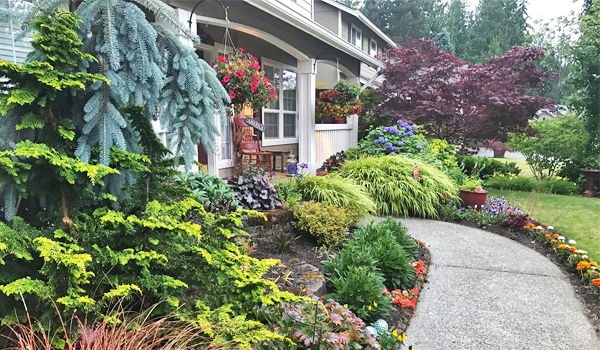 My Personal Garden Retreat
Today I decided to share a couple pictures of my personal retreat. This year, more than ever, I am so grateful for a place where I can escape the craziness and stresses of the world around me. No travel, no reservations, and no special arrangements needed.

I strongly believe that a garden should be a place of joy and relaxation, and not a source of frustration and constant work. A beautiful garden does require some time and energy to maintain. But I want you to know that I do NOT spend countless hours maintaining my garden. After long hours at the garden center and few days off, I enjoy spending time just relaxing and enjoying my garden.

I would love to share with you some of my secrets and tips and help you find the garden of your dreams. You can do this. We can do this together.

Branches Garden Center Consultation Service brings a garden expert to your garden for up to one hour. During that time, we can offer design ideas, do problem solving, give plant suggestions and so much more. The consultation is personalized and customized to the advice or help that you may need. The consultation includes a list of plant suggestions tailored to your yard and needs. The service is available by appointment for $65.00 per hour.

One of the biggest tangible benefits of this service is the fact that when you visit Branches, we will be able to offer suggestions with firsthand knowledge of the unique features of your space. This helps us to be much more effective in helping you as you pick out plants and accessories for your home and garden.


Tent Sale continues with new items being added daily. Don't miss out on some great bargains and hidden treasures!

New shipments of shrubs and perennials arriving this week ready to find a place in your emerging paradise.


Be assured that during these challenging times we are practicing government mandated guidelines to the best of our ability. We are asking our customers to always practice social distancing and request that you wear a face covering while shopping. During high traffic times we reserve the right to limit access to the store to maintain good social distancing.

Our staff is here to help you in any way we can.
Come in today to see
why our community
voted us BEST!