Subscribe below!
Our Most Recent Newsletter
3909 S. 320th St. Auburn, WA 98001
Phone (253) 941-7705
Fax (206) 212-6984
Hours: Monday - Saturday: 10 am - 5 pm and Sunday: Closed
In This Together
Dear Friends of Branches Garden Center,

Seattle Seahawks Coach, Pete Carroll, has three simple rules for team success. The rules are:

1. Always protect the team.
2. No whining, no complaining, no excuses.
3. Be early.

All three are important, but today I want to focus on #1 & #2.

During the current world pandemic, it is being said, "We are in this together." The reality of that truth and how tightly we are woven together as a community, nation, and world is astonishing. More than ever it is so important that we all "protect the team."

To Protect our team (our families, friends, employees, customers, and suppliers) we are instituting the following policies and procedures at Branches Garden Center.
1. Our store will remain open as a government sanctioned 'essential services business' with the following restrictions.

a. Limited hours: Monday – Saturday 10-5 Closed on Sunday.
b. We will be limiting the number of people that will be allowed inside at one time.
c. All in-store shoppers will be required to wear a face covering while shopping.
d. Strict 'social distancing' of 6 feet or more for all customers and staff will be enforced.
e. Please do not bring your children to shop in the store at this time. Adults only.

Whenever possible we would encourage you to use one of the following new services.

a. Phone-in or email orders with 'contact free' curb-side pickup. Our staff will select beautiful stock for you and call when it is ready to pick up. In the next few days, we will be working to get plant and product lists on our web page. But always feel free to call the store and ask. When emailing your requests be sure to include your phone number so we can call you for details.
b. FREE delivery of your order in the local area with purchase of $75 or more.
c. FaceTime virtual shopping. Not sure what you want or what we may have for your project? Call the store to arrange a free, FaceTime consultation to pick out exactly what you need.

Coach Carroll's 2nd rule: "No whining, no complaining, no excuses." No one is happy about the current circumstances we find ourselves in today. Many important events and activities have been canceled. Jobs are being lost or put on hold. There are so many things that are out of our control right now.

What we can do is focus on what we do have control over and count the many blessing we still enjoy. The support and encouragement from our customers and friends during this time has been reassuring. April and May are critical months for us as a garden center and for gardeners in the Pacific Northwest. We are looking forward to doing all that we can during this time to continue to serve you and provide for your gardening needs. Thank you for your continued support and for sharing this letter with your family, friends and social contacts.

Gardening and growing both food and flowers are good for the body, mind and spirit. Let's turn off the news, get out into the garden, and stay happy and healthy.
Steve, Sharon & the Staff at Branches Garden Center
Victorious with Victory Gardens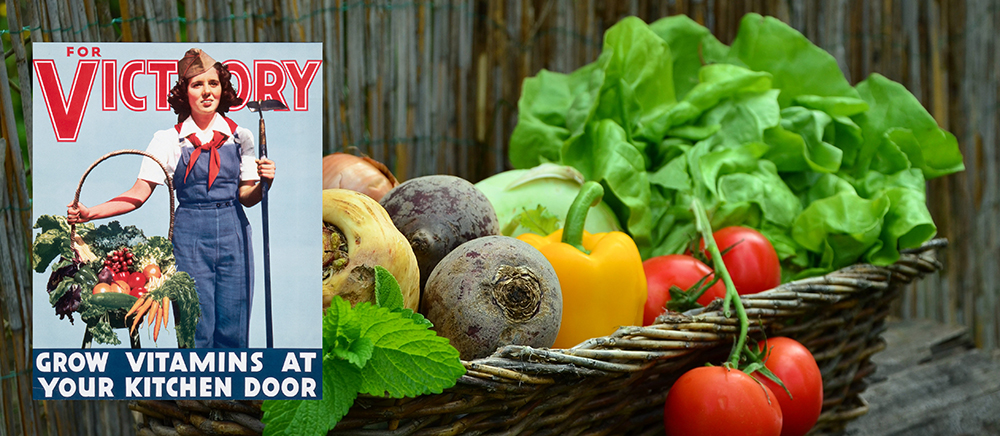 During the severe food crises of World War I and II, the U.S. government, along with several other countries, encouraged citizens to plant victory gardens in their own backyards, balconies and rooftops to supplement their rations and to boost morale.

The citizens responded! By May 1943, there were 18 million victory gardens in the United States. Estimates at the time concluded that roughly 40 percent of the nation's vegetables came from gardens grown at home or schools. Fruit and vegetables harvested in these home and community plots was estimated to be 8,200,000–9,100,000 tons in 1944, an amount equal to all commercial production of fresh vegetables.

Now, the victory gardens planted by our parents and grandparents have returned as the next generation of Americans has found themselves dealing with food uncertainty and an interest in becoming more self-sustainable.

But for many us confined to our homes during the coronavirus outbreak, our gardens also offer sanctuary and therapeutic value in trying times. The act of gardening or being in a garden surrounded by plants is good for one's soul and overall wellbeing. We're slowing down, resting, relishing small pleasures, eliminating what is not essential and focusing on what is real: the earth in our hands and the slow, dependable process of nature turning seed into food.

When this crisis passes, as we know it will, we will have a choice. We will be able to go back to how things used to be, neglecting the garden in favor of stocking up at the grocery stores without stress or worry. But I contend, there's only one problem: once you've tried homegrown - you'll never want to go back.

If you are a first time gardener, be assured that we are here to help you be victorious with your Victory Garden.
Come in today to see
why our community
voted us BEST!