Subscribe below!
Our Most Recent Newsletter
3909 S. 320th St. Auburn, WA 98001
Phone (253) 941-7705
Fax (206) 212-6984
Hours: Monday - Saturday: 10 am - 5 pm and Sunday: Closed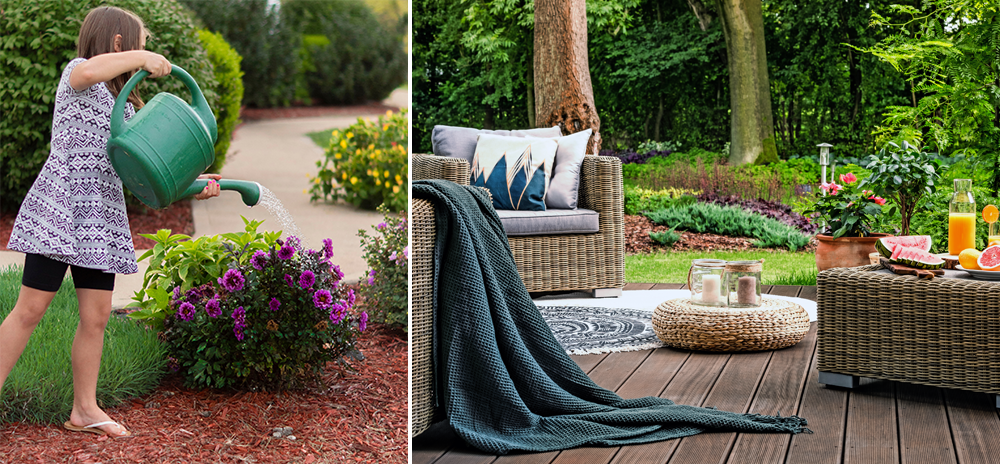 Planning this Summer's Vacation
Many of us, myself included, had some great plans in the works for a fabulous vacation this summer. Sad to say, it is looking like most of those plans are going to be changing. But time away from the difficulties and stresses of life are more important than ever now. Like never before, this will be the summer of the 'staycation'. We need to make it a fabulous one.

A man's home is his castle. And his back yard should be his sanctuary, his oasis, and his own personal retreat. The money that was going to be spent on that dream vacation could now be spent on developing and improving your back yard. And unlike that great vacation that leaves you with simply great memories and pictures, your back-yard upgrade will continue to give you many years of enjoyment.

Now is the perfect time to bring together your personal paradise. Spring is for planting and creating new spaces. In no time you can be enjoying vibrant colors and textures, intoxicating fragrances, and soothing sounds that will transport you far away from the cares and challenges of today's world.

Let us help you with the details, lots of ideas, and some secrets to success. You can do this! Bring in some pictures of your current yard or schedule a Garden Consultation with Steve. " Staycation 2020" here we come. Your new, upgraded yard just might be the best thing to come out of our current challenges.

Memorial Day Weekend at Branches

This weekend, Friday – Monday, all outdoor pottery is 30% off the regular price. Shop early while the selection is best.

A fresh supply of veggies, herbs, tomatoes, and peppers have just arrived just in time for weekend planting in your garden.

Be sure to check out our Indoor Plant Dept. for some unique and interesting additions this week. Monkey Pitcher Plant, Stag Horn Fern, various patio ferns, variegated Lemon Trees, lots of very cool cactus (some in bloom) and so much more!

Check out our Boutique specials this weekend in clothing and jewelry.
Beautiful things with beautiful prices.

We have a fantastic selection right now of beautiful trees, shrubs, perennials, annuals, fountains and garden art that are ready to help transform your yard into that new Staycation Destination for this summer. Check it out this weekend.

Please note that due to current restrictions and limitations we are closed on Sundays. See us Monday through Saturday 9am to 5pm.

Be assured that during these challenging times we are practicing government mandated guidelines to the best of our ability. We are asking our customers to always practice social distancing and request that you wear a face covering while shopping. During high traffic times we reserve the right to limit access to the store to maintain good social distancing.

Our staff are here to help you in any way we can.
Come in today to see
why our community
voted us BEST!